PPM and Loudness Meter LM 128P

German Version: Loudness Meter LM1128 und LM 128P )
Loudness and Peak Program Meter according to EBU R 128

Contents
Preface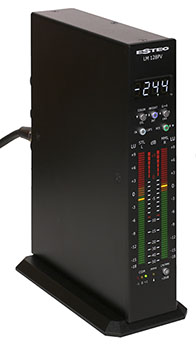 This PPM (Peak Programme Meter) and Loudness Meter was a joint development with Estec GmbH. It is designed for professional use, mainly in radio and television studios and used by well-known broadcasting organisations.
The LM 128P still contains part of the "DNA" of the DPLCMs, but has undergone significant further development and redevelopment. Even now, an FPGA is the core of the device.
In a further development a vertical version of the LM 128P, the LM 128PV was designed. Originally, the LM 128P was created under the name LM 1128 as a pure loudness meter, but with 6 channels for surround sound. The combined version as stereo PPM and loudness meter was then more successful.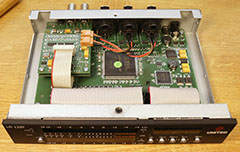 I don't want to withhold a glimpse inside from those interested in technology either.
Unfortunately, the Estec company no longer exists, but I still have a few of these devices, most of which are equipped with analog inputs.
I present the device here in the form of excerpts from the manual, so that it is not completely forgotten:
The Estec LM 128P is a Loudness and PPM Meter according to the EBU-recommendation R 128. It fulfills the demands for the "EBU Mode" corresponding to the specifications
EBU R 128 (September 2011),
ITU-R BS.1770-2 (March 2011),
EBU Tech Doc 3341 (August 2011)
EBU Tech Doc 3342 (August 2011) and
DIN IEC 60268-10
For more information please refer to http://tech.ebu.ch/loudness.
Note: The LM 128P does not incorporate a true peak meter according to EBU R 128.
1 AES/EBU digital input (XLR) for measurements of stereo signals
Option: 3G-SDI input/output (2 x BNC) carrying up to 4 stereo signals, each of which can be selected to be measured
Option: 2 analog inputs (2 x XLR, stereo)
LU Display Mode
Short Term Level (average value over 3000 ms) with tricolor LED bar with 51 segments
Momentary Loudness (average value over 400 ms) with tricolor LED bar with 51 segments
PPM Display Mode
2 tricolor LED bars with 51 segments displaying the left and the right channel's PPM values
Scale range from -50 dB to +6 dB, linear from -10 dB to +6 dB with 2 LEDs pro dB
Common in both Display Modes
Numerical display of Short Term Loudness, Integrated Loudness or Loudness Range by a four-digit 7-segment display, with the display of Momentary Loudness and Integrated Loudness selectable between LU and LUFS


3 LEDs +1, 0 and –1 to display L/R-correlation in 5 ranges


Various options for individual display and operation settings


Key +20dB: Adds 20 dB to the measured PPM value. Also: Selection between Loudness Meter (LM) display mode and Peak Program Meter (PPM) display mode.


Key LUFS: Selection between LU (relative to a reference level) and LUFS (absolute to full scale level). Also: Selection between AES/EBU, SDI and analog inputs (if available).


Keys STL, INT and LRA: Selection of the 7-segment display: Short Term Loudness, Integrated Loudness or Loudness Range. Also: Setup functions.


Keys RUN/PAUSE resp. RESET: Start, Stopp resp. Pause as well as resetting the Integrated Loudness and the Loudness Range measurement.


1 AES/EBU input, XLR, transformer coupled, for stereo signal measurements
Optional: 3G-SDI input/output, 2 x BNC
Optional balanced analog inputs, input impedance approx. 34 kOhm, reference level for 0 LUFS adjustable from 0 dBu up to +24 dBu in steps of 1 dB
12 sample rates (8 kS/s up to 96 kS/s) are recognized automatically (version without USB: 15 sample rates up to 192 kS/s)
Automatic filter coefficients adjustment for 1 kHz reference frequency
Sliding 400 ms and 3000 ms measuring windows with 25 ms resolution (i. e., overlapping 375 ms / 2975 ms)
PPM measurements with 10 ms/90% resp. 5 ms/80% attack and 1.5 s/-20 dB decay time
Correlation Meter dynamic range > 130 dB
5 V low voltage supply, max. 2 A
Size (W x H x D): 190 mm x 40 mm x 140 mm
Weight: 850 g without / 900 g with optional SDI and analog inputs

AES Input
This is an AES/EBU resp. AES3 input. With a matching adapter also AES3id (BNC) or S/P-DIF (RCA) signals can be applied.
3G-SDI Input/Output (optional)
The optional 3G-SDI input/output provides a 4 stereo channel audio de-embedder for data stream 1. These 4 stereo signal pairs can be selected to be measured. The green LED "LOCK" will be on, when a valid SDI signal is detected.
Sample Rates
The LM 128P operates with the following 15 sample rates where the filter coefficients are automatically chosen correctly for 1 kHz reference frequency:
8, 11.025, 12, 16, 22.05, 24, 32, 44.1, 48, 64, 88.2 and 96 kHz (also 128, 176.4 and 192 kHz in a version without USB)
For all other sample rates the filter coefficients of the closest known frequencies are chosen.
An optional analog stereo input is available on two XLR jacks.
The LM 128P is equipped with a remote control input with a 3-pin TRS (Tip, Ring, Sleeve) jack. With external keys it is possible to
start, stop and reset the INT and LRA measurement,
select between STL, INT and LRA for the numerical display and
clear the clipping indication.
The LM 128P is equipped with a USB port for reading the loudness measurements and for remote control of the most important functions. An impression of these functions can be obtained from the user interface of our demo program:

Have a look at the LM128P in action (unfortunately only in German):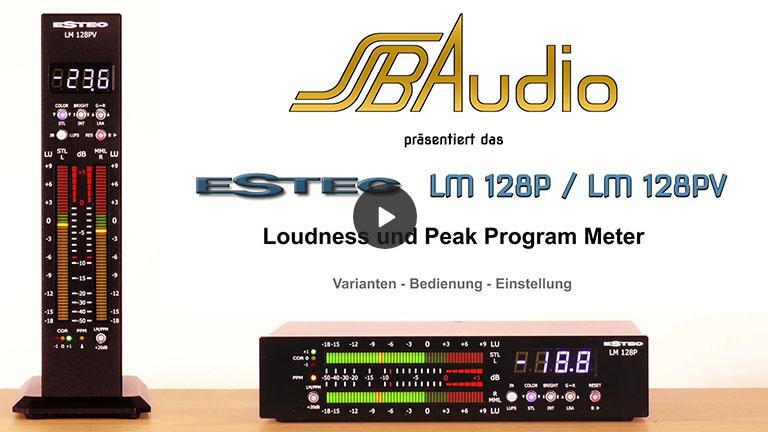 Current user manuals in firmware version 4.0x are available as PDF files, but with the logo of our joint company SSB, which also sold the loudness meters:

LM 128P Anschluss und Bedienung Deutsch


LM 128P Installation and Operation English
---
| | | |
| --- | --- | --- |
| Last update: August 6th, 2021 | Questions? Suggestions? Mail Me! | Uwe Beis |