Ultra Low Noise FET Preamplifier LNPA60dB
(

German Version: Ultra-rauscharmer FET Vorverstärker)
Suitable for audio and measurement purposes
Input voltage noise approx. 0.41 nV/√Hz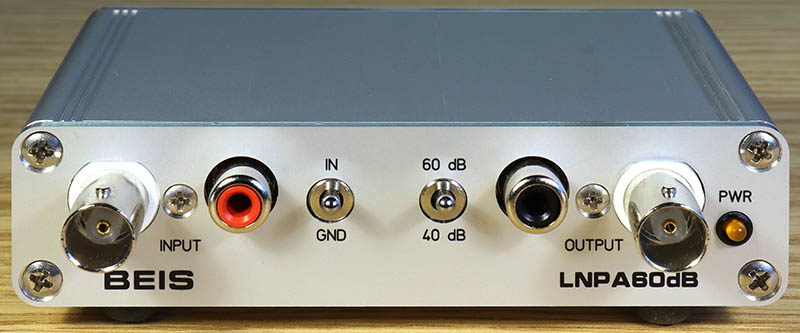 0.41 nV/√Hz are so little that sources with more than 10 Ω impedance noise more than this preamplifier!
Only with even lower impedance sources this preamplifier is the "bottleneck" in total noise.
Contents
Preface
The total input noise of (pre-)amplifiers consists of several components:
The input noise voltage of the amplifier input stage
The input current noise of the input stage of the amplifier multiplied by the output impedance of the signal source
The thermal noise of the output impedance of the signal source, e.g. a microphone, pickup or simple resistor
To ensure that no significant further noise is added to the preamplified signal by input noise from the subsequent stages of the following signal processing chain or by other causes, the preamplifier must amplify sufficiently high. The LNPA60dB (Low Noise Pre-Amplifier with up to 60 dB Gain) is designed for this purpose. It is optimized for audio applications, but can also amplify AC signals up to the MHz range. It has FET inputs to avoid the noise caused by input current noise at higher source impedances.

In this context I would like to refer to other relevant links on my website:
Technical Data
Input voltage noise @ 60 dB: 0.41 nV/√Hz (measured on several specimens)
Input voltage noise @ 40 dB: 0.43 nV/√Hz
Gain switchable between 20 dB and 40 dB +/-0.05 dB (~ = +/-0.5%)B
Input impedance: 1 MΩ || approx. 5 pF
-3 dB cutoff frequencies +60 dB, 1 VPP: ~5 Hz to ~1.4 MHz
-3 dB cutoff frequencies +40 dB, 1 VPP: ~2 Hz to ~4.5 MHz.
Slew rate: approx. 10 V/µs
Output impedance 100 Ω
Input and output connectors BNC and RCA, paralleled
Operating voltage: 12 V, max. 15 V, protected against polarity reversal
Current consumption: ~70/85 mA (60/40 dB gain)
Connection: Hollow plug, 5.5 / 2.1 mm, + inside, normal & lockable
Dimensions: 105 x 26 x 58 mm (without sockets, switches and feet)
What should be considered during operation:
There are some aspects that do not apply to "normal" preamplifiers that I want to point out here.
Input protection: The extremely low noise practically does not allow a good input protection. Every effective input protection needs a series resistor, which however, in order not to worsen the noise, would have to be in this case significantly smaller than 10 Ω and thus would no longer have any protective effect. Therefore there is only one ESD protection diode behind the 1 µF AC coupling capacitor. It limits at approx. 5 VPP. This means: Higher voltages cause higher currents via the coupling capacitor and the ESD diode depending on frequency, voltage and impedance of the source. On the other hand, even at 40 dB gain, a reasonable input voltage is no greater than 100 mVPP. This also means that abruptly applying or turning off a higher DC voltage with low impedance at the input could overload this ESD protection. This can be avoided by briefly switching the input to ground (GND) before applying the DC voltage.
Source impedance: The LNPA60dB cannot quite perform to its potential at sources with impedances much higher than 10 Ω, because then the thermal noise of the source is greater than that of the LNPA60dB. Good preamplifiers, especially good microphone preamplifiers, offer an input noise voltage of about 1 nV/√Hz, as much as a 60 Ω resistor. However, they then also have an input noise current that, at higher source impedances, produces more noise voltage than the thermal noise of the source. The LNPA60dB, on the other hand, has virtually no noise current because of its FETs in the input.
Overload: The LNPA60dB does not have normal behavior when overdriven. There is no simple clipping as usual because internal operating points shift. The recovery time from such an overdrive can take a few seconds.
High frequencies: At high frequencies, the full output voltage cannot be reached because this amplifier, like all amplifiers, has a limited slew rate. Therefore, it should be operated at high frequencies with smaller voltages, e.g. input voltages of 1 mVPP at 60 dB gain or 10 mVPP at 40 dB gain. Then operation at high frequencies is possible without any problems. The same applies to measurements of the frequency response or the step response.
Power supply: In principle, operation is possible with a simple power supply, e.g. a plug-in power supply. However, the risk that the switching frequency is visible in the output signal is very high, especially with switching power supplies. Linear regulated power supplies are more suitable. But even then capacitive coupling through the transformers can result in a kind of loop, through which preferentially higher interference frequencies can be coupled in. This can be avoided much better with battery supplies. However, attention: The same applies to the power supply of the source, if it needs a power supply!
Measured Values
I have documented further measured values such as noise spectra, amplitude responses and step responses in the article about the development of the LNPA60dB.

---
| | | |
| --- | --- | --- |
| Last update: April 7th, 2021 | Questions? Suggestions? Email Me! | Uwe Beis |