The ADICON Project
An ADC not only for HiFi-enthusiasts


The ADICON is an ADC, primarily intended for HiFi-enthusiasts, i.e., owners of valuable tape recorders and turntables, in order to link these machines digitally to modern equipment. The original idea, a pure and quite simple ADC just for tape recorders mutated during its implementation into a versatile ADC including two inputs, an RIAA preamplifier, a headphone output and a driverless USB Audio Class 1/2 interface. It seems that the ADICON's major application will more and more turn into an interface for digitization of vinyls and tapes. Dual use - very gratifying.
For this project I joined together with Sonny and Heinz. Heinz came up with the idea for this project, he is responsible for marketing, legal things and so on. Sonny cares for the mechanical design including the outstanding front panel, production and test while my part is the technical design, the "inwards", so to speak, and the documentation. Also Heinz's son Markus (website) and my wife Birgit (translations and management) are deeply involved. We founded a company for it, called SSB Audio GmbH.This complex process lasted several weeks.
The ADICON is available from stock, have a look at our SSB Audio web shop.
The ADICON's ADC is based on my experiences with my AD24QS kits, of course, but the ADICON contains many more features:
One input for phono (optionally MM or MC) or tape/line/aux, RCA jacks
Adjustable capacitive load for MM input
One input for tape/line/aux, RCA jacks and DIN connector
Both inputs can be levelled individually
Input (source) selector switch
Analog line output on RCA jacks and DIN connector
ADC with 6 sample rates up to 192 kHz, 24 bits
Sample peak programme meter (SPPM) with 2 x 10 LEDs, widely meeting the EBU standards
Adjustable SPPM intensity and peak hold
Digital audio outputs coaxial (RCA) and optical (Toslink)
USB Audio Class 1 (Windows up to XP): Up to 96 kHz, 24 bits and 192 kHz, 16 bits
USB Audio Class 1/2 (OS X, Linux and current Windows 10): Up to 192 kHz / 24 bits
Powerful headphone output on the front panel, 1/4" TRS jack
Very special treated and high-quality front panel
Further information can be found:
Our SSB Audio website in English or in German
Our SSB Audio web shop
The ADICON manual (PDF) in English or in German
An ADICON white paper (PDF) in English or in German
The ADICON Block Diagram
More Photos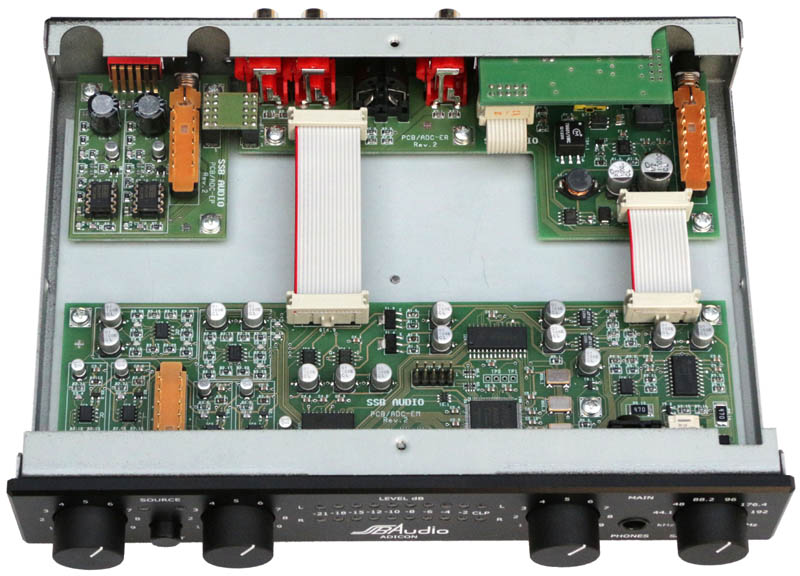 ---
| | | |
| --- | --- | --- |
| Last update: April 21st, 2019 | Questions? Suggestions? Email Me! | Uwe Beis |